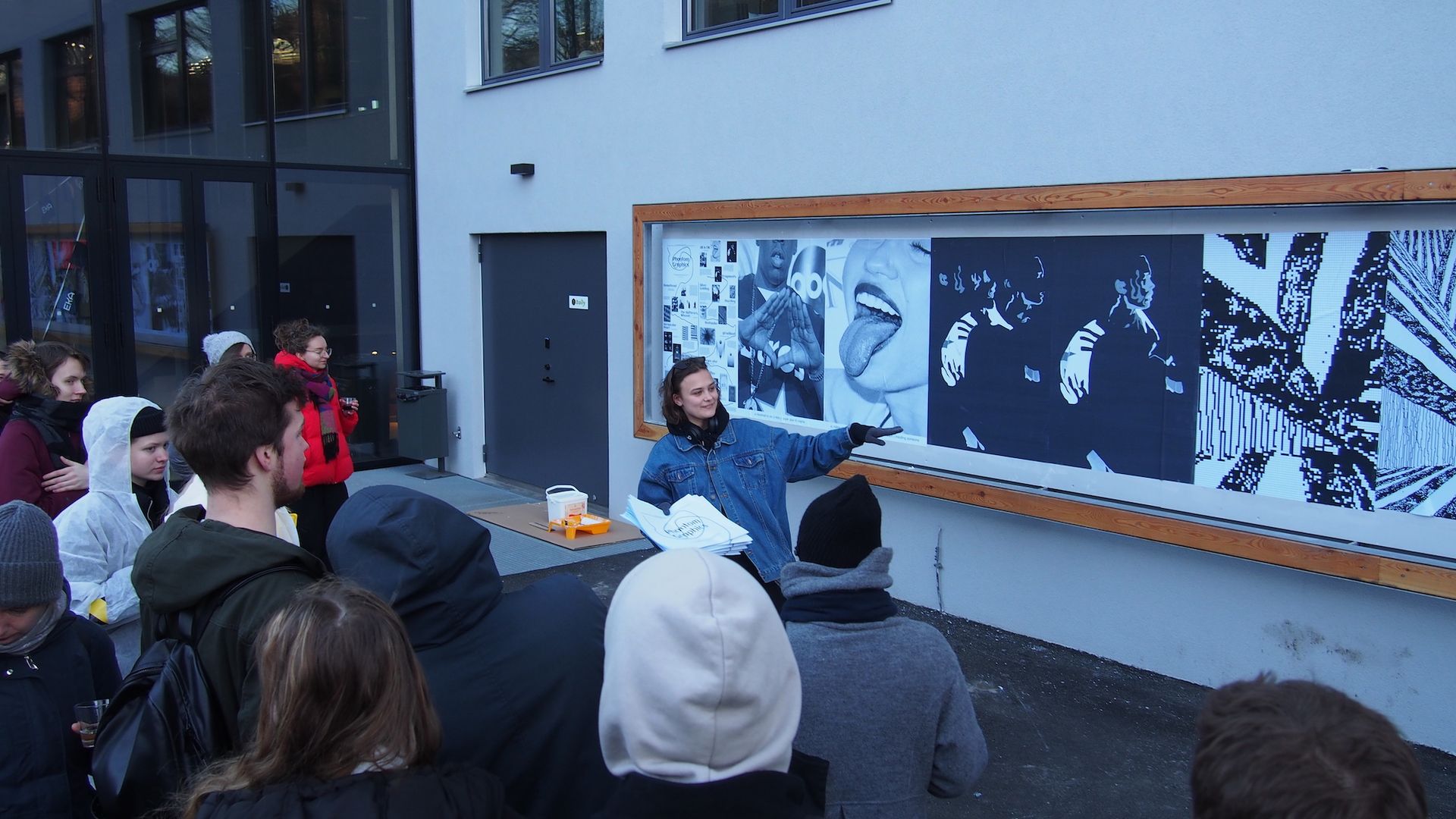 | | |
| --- | --- |
| Õppetöö asukoht | Eesti, Tallinn |
| Õppetase | Postgraduate, full-time |
| Nominaalkestus | 2 years (120 ECTS) |
| Õppekeel | inglise |
| Kraad / diplom / tunnistus | MA |
| Kood | 214451 |
Õppemaks

2 600 € aastas

Kandideerimistasu

60 € one-time

Application fee is non-refundable.
Sisseastumisnõuded

Undergraduate diploma (or higher)

NB! Students graduating in the spring of 2023 who are unable to submit proof of education by the deadline must submit the latest document with their current grades to apply. Documents proving graduation (diploma and transcript) must be submitted by the end of June 2023 at the latest. For additional questions, write to admissions@artun.ee

The entry qualification documents are accepted in the following languages: inglise / eesti.

Upload the educational document digitally to the application.

– Bachelor's degree certificate or equivalent and their translations into Estonian or English (both, the copies and the translations have to be attested by notary). NB! only when applicants documents are translated into English then the translations have to be attested by notary!

– The transcript of records and their translations into Estonian or English (both, the copies and the translations have to be attested by notary). NB! only when applicants documents are translated into English then the translations have to be attested by notary!

For detailed information about requested documents and suitable qualifications, please take a look at country specific requirements

Only the accepted candidate must send the documents physically (by post or courier services like DHL, FedEx etc.) to Estonian Academy of Arts. Specific instructions will be given by the admission specialists to each applicant individually. Please do not send any documents by post until you have personally been asked to do so.
Do not send original documents!
Keelenõuded

inglise


You can apply with the following language test results (Minimum requirements set by the EKA):

– TOEFL ITP: min 543
– TOEFL iBT: min 72
– IELTS (academic or Indicator): min 5,5 (in all parts of the test!) – upload the result digitally to your application, we will verify it online
– FCE (Cambridge First Certificate in English): minimum required result is 160 for the B2 exam
– CAE (Cambridge Certificate of Advanced English: C1 level
– CPE (Cambridge Certificate of Proficiency in English): C2 level
– PTE Academic (Pearson Test of English Academic: min 59

Upload the certificate of foreign language skills digitally together with other requested documents.

NB! Language test results are valid for 2 years!

WAIVING ENGLISH LANGUAGE REQUIREMENTS

Proof of English may only be waived if a candidate:

- has completed their secondary education, Bachelor's or Master's degree taught fully in English in one of the following countries: EU/EEA member states, USA, Canada, Australia, New Zealand, United Kingdom. You must have resided in the mentioned country while doing your studies. Please note that the transcript of record must include that studies were conducted fully in English.

- has studied at least one academic year as a full-time student (obtaining a minimum of 45 ECTS with positive results) in English in an institution of higher education in the European Union or the European Economic Area, United States of America, Canada, Australia or New Zealand.
Muud nõuded

Avaldusele tuleb lisada motivatsioonikiri.

Motivation letter – 500 word max and should include background, interests, influences and the current direction of your work. Also identify the reasons for pursuing an MA in graphic design, expectations of the program, and intended use of the two years of study

Portfoolio on nõutav.

Portfolio – in digital format (as a PDF, max 60 Mb) which should include 10–15 projects, with each project supported by a selection of 4–6 images and 50 word description. This can include a mix of professional commissions, self-initiated work, BA projects, unrealized and in-progress work, or projects from within other fields (where relevant). If including video work, use still-frames for the PDF, with an external link to the video. The PDF should be well organized, designed, and easy to follow

NB Since the DreamApply accepts smaller documents please add the PDF through Google Drive shared link if the system shows an error when uploading your portfolio as a PDF

REQUIRED DOCUMENTS:

• copy of your Bachelor's degree certificate or equivalent

• copy of your Transcript of records

• certificate of foreign language skills.

• copy of the data page of your passport or ID-card

• CV

• Motivation letter

• Portfolio

Candidates are evaluated on the basis of their CV, motivation letter and portfolio. The shortlisted candidates will then be called for an interview. The exact time will be sent by email.
The interview will take place on 16. and 17.03.2023.
The interview with the jury will focus on the motivations for studying, expectations of the program, and discussions around previously made projects which are relevant to these topics.

More information www.artun.ee/en/curricula/ma-gd/admissions/
Overview
The Master of Arts (MA) in Graphic Design at the Estonian Academy of Arts (EKA) is a new
two-year, English-language program intended to develop a student's independent practice,
clarify their intentions, and define their position as a graphic designer. Students will work
critically and consider the relationships between form, content, production, and the
distribution of information. They will develop a practice which is self-reflective, process
oriented, rigorous with intention, and consistently holds an honest position in response to the
typically changing demands and contexts of working as a graphic designer.
The program takes an expanded view of graphic design, seeing it as a form of
knowledge production whose role can be understood as a way of 'making things public.' This
idea is supported by providing opportunities for students not only to work through traditional
models of graphic design—books, websites, posters, typefaces, videos—but also to publish
texts, organize exhibitions, host lectures, teach workshops, and create other contexts of
exchange during their studies. Students will actively question the medium as a whole,
consider its ability to engage meaningfully in social and cultural contexts, practice new ways
of making work and expressing form, and contribute to the contemporary development of the
discipline.
Facilities
Each student is given a dedicated workspace located in the MA studio of the Graphic Design
department at EKA. The studio is equipped with an A3 black & white laser printer, A3
risograph printer, and high-speed internet. Students are expected to have their own personal
computer. Access is given to EKA workshops, including screen printing, letterpress, 3D
printing, prototyping lab, and a woodshop. The studio and workshops are part of the newly
completed (in 2018) Estonian Academy of Arts building, which additionally includes a library and contemporary art gallery. Students have the opportunity to attend public lectures and
events organized by other departments and programs in EKA, including from Contemporary
Art and Curating, Art History and Visual Culture, Architecture and Urban Studies, and
Interaction, Digital and Product Design, among others.
Struktuur
The curriculum is structured to provide students the time, space, resources, and
conversation towards the development of their practice and the making of a body of work.
This work is always supported by a teaching staff of actively practicing designers, and invited
guests who give workshops, lectures, and critiques. The first year of the Graphic Design MA
is facilitated by prompts which engage students to question and reflect upon their work. The
second year asks that students come to define their work and practices as a whole. Students
are expected to articulate and defend their work at the end of each semester, and should be
able to outline their intentions for how to continue into the next academic term.
First Year
In the first year, each student is asked to question their practice, interests, and intentions as
a designer through the active process of making new work. This is facilitated by prompts
intended to encourage critical investigation, hands-on making, and iterative working.
Studio
The program is organized around a studio model wherein practice is developed
through formal investigations and applied projects. These can start from a combination of either prompts by the teachers, commissioned projects, or self-initiated work from the students. Regardless of the starting point, the work must be iterative, critical, and contribute towards the forming of a body of work. All work is supervised by weekly meetings either with the staff or visiting critics.
Berlin Studio
During the second semester for seven weeks, the program will
relocate to Berlin, Germany, supported by a teaching staff of local designers. The
Erasmus mobility program has approved a stipend for all students to cover travel and
accommodation costs.
Theory
The theory course will support all practical studio work. Throughout the semester,
students will meet with a theory teacher who will assign readings, lead discussions,
organize lectures, and host screenings. The role of the theory teacher is to help
students contextualize their work, position themselves in the contemporary world,
and facilitate research that may eventually lead to their thesis.
As the first year progresses, these course components fold into one another, so that no work
is done without the integration and support of the other. The work produced in the first year
is intended to be reflected on, and students will be asked to find connections between their
projects to serve as a starting point for defining their work in the second year.
Second Year
In the second year, students will begin to define their own projects and research towards a
final thesis, with the ongoing support of a thesis advisor. In the third semester, students are
required to choose electives (from the faculties of Architecture, Design, Fine Arts, and Art &
Culture) which support this work, while the fourth and final semester is dedicated entirely to
completing the thesis submission and graduation exhibition.
Thesis
The thesis is understood as a cohesive body of work, organized from a collection of
projects developed over the two years of study. It will present what your work is
about and how you position yourself as a graphic designer. The final submission will
take the form of a book, which must include a formal written thesis and the body of
work that supports it.
Upon successful completion of the two years of study and submission of a final thesis,
students will graduate with a Master of Arts in Graphic Design.