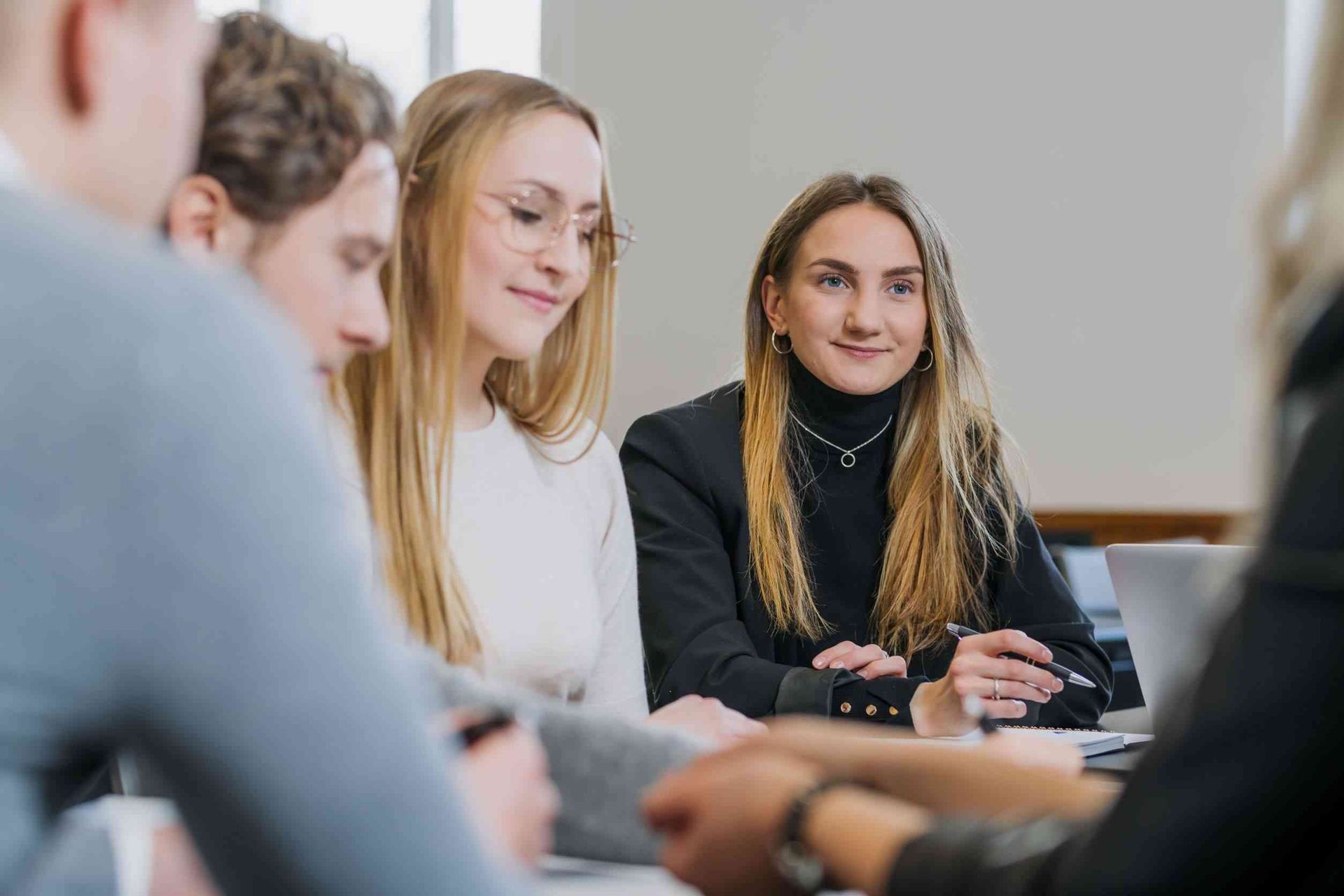 | | |
| --- | --- |
| Study location | Estonia, Tallinn |
| Academic field | International business studies (JACS N120) |
| Type | Undergraduate, full-time |
| Nominal duration | 3 years (180 ECTS) |
| Study language | English |
| Awards | BA (Bachelor of Arts in Social Sciences) |
| Course code | 215089 |
| Accreditation | 1.07.2010 |
Tuition fee

€5,797 per year

The tuition fee for the study year 2023/2024:


The tuition fee is for the first study year is paid in one instalment (5797 euros);
The tuition fee has to be paid before your visa appointment with the Embassy;
You will receive an invoice with a personal deadline.



Application fee

€120 one-time

The application fee is non-refundable. Application documents will be processed only after the application fee is received.

EU candidates & the following countries (Turkey, Georgia, Ukraine, Kazakhstan) are exempt from the application fee.
Entry qualification

High school / secondary education (or higher)

In order to qualify for the studies in EBS an applicant has to have at least 60% of the highest possible GPA.

Suitable candidate:

Holds a higher secondary education degree or an equivalent qualification
Holds sufficient proficiency in English (B2);
Demonstrates their motivation, ambition and argumentation skills in a catchy application
Completes the admission interview at

EBS

successfully

In order to qualify for the studies in EBS an applicant has to have at least 60% of the highest possible GPA.

The entry qualification documents are accepted in the following languages: English / Estonian / Finnish.

If your educational documents are in any other language than accepted languages, you need to present certified translation.

EBS Study department
A. Lauteri 3, Room 103
10114 Tallinn, Estonia

To whom: Admission team

For more detailed info please visit: www.ebs.ee/en/admission
Language requirements

English
Accepted proof of proficiency: FCE or CAE, IELTS 5.5+ or TOEFL 69+

Proof of sufficient English language level:


TOEFL

iBT min score 87 (

EBS

code 6744).
Please note that the

TOEFL

iBT test score is valid for 2 years.

IELTS

Academic – 5.5 with 5.5 or above in each band.
Please note that the

IELTS

test result is valid for 2 years.
Cambridge test-

FCE

BEC

(Business English Certificate) Vantage



The international English certificate can only be replaced by:


Completion of the previous level of education in English in the UK, the

USA

, Canada, Ireland, Australia or New Zealand.
Completion of the previous level of education taught fully in English in EU/EEA member states.
Please note that the transcript of record must include that studies were conducted fully in English.



If you have completed studies in English but not in the country named above, we ask you to present an internationally recognized test. Please see the requirements above.

In case of any questions please visit our webpage frequently asked questions section: ebs.ee/en/frequently-asked-questions
Other requirements

At least 2 reference(s) should be provided.

Suitable candidate


Holds a higher secondary education degree or an equivalent qualification;
Holds sufficient proficiency in English (B2);
Demonstrates their motivation, ambition and argumentation skills in a catchy application;
Completes the admission interview at

EBS

.



Check out country specific requirements here: www.ebs.ee/en/country-specific-requirements
Overview
Estonia is the best place in the world to study entrepreneurship, as Estonia is a country that values education and entrepreneurship. This is evidenced by our Pisa results and the success stories of Estonian start-ups (Skype, Bolt, Transferwise, etc.), where EBS alumni have also played an important role.
Innovative programme for ambitious entrepreneurship enthusiasts
An innovative study programme ''Impact Entrepreneurship'' is developed to meet the needs of the society and take into account best practices and our own 35-year experience in entrepreneurship education.
This is a unique programme in the whole world where learning is based on the modern and innovative business simulator principle. This programme is for you if you are interested in entrepreneurship, dream about becoming an entrepreneur or wish to implement a business idea which will make the world a better place. During your studies, you will experience all the development stages of a company and will be equipped with knowledge of responsible entrepreneurship, contemporary digital solutions, and team leadership.
What makes it unique?:
In order to create the most real-life learning experience possible, we abandon traditional subject-based learning. You will cover the whole lifecycle of being an entrepreneur during this study programme, starting with finding a business idea, creating your business and finally liquidating it
This programme is intended for you if you dream about:

starting your own business or develop an existing business;
learning through intense and practical collaboration within an international team;
learning about your strengths and challenges as an entrepreneur.


Why choose this programme?:
It offers a unique opportunity for a university degree while developing a business idea;
You will walk through all the development stages of a company and will be able to immediately implement your knowledge and experience as a team member. During the studies you will solve real-life challenges which start-ups and companies of impact face on a daily basis;
You will obtain the best possible knowledge and practical skills in key areas of entrepreneurship – product development, responsible entrepreneurship, team leadership, marketing, financing, digital solutions, and international business;
You will meet a number of top talent and will be guided by experts, managers, and entrepreneurs in their field;
Your personal development will be an integral part of the studies – you will introspectively analyse what you have experienced in one-on-one meetings with your mentor;
You will learn in small groups of students and your personal study consultant will be there to advise you. Thus, we will always be on top of your goals and support you every step of the way;
At

EBS

we focus, as much as possible, on learning from each other via group discussions, teamwork, practical studies, and "lessons from life". This will ensure that upon graduation you will break through, will be entrepreneurial and successful in your area of business;
Your fellow students will be positive and ambitious initiators with cool ideas. This inspiring and motivating company of people and valuable network will remain with you for years to come;
You can take advantage of the mobility window which enables an international learning experience in a foreign top-tier university.
Programme structure
Programme overview
During three years you will experience the entrepreneurship process from the creation of the business idea until the selling of the business. You will be provided with knowledge and skills relevant for each development stage of a company in every lecture and seminar.
Development stages of a company: discovery of business opportunities and starting a company, company development and optimization of processes, expanding and internationalising the company, sale of and/or closing down the company.
This program will concentrate on seven specific areas (thematic streams): Entrepreneurship & Marketing, Finance & Economics, Law & Ethics, Sustainability & Green, Leadership & Team, Organisation & Network, and Individual & Transferrable (personal development of an entrepreneur).
Your studies will be supported by entrepreneurs, mentors, and experts.
Academic year 1
Semester I: Seeding and Starting-up
In the first semester your entreprenurial journey starts with working in different teams to discover opportunities for impactful entrepreneurship and sustainable business creation. We focus on the wider business context by exploring trends and global challenges that nowadays entrepreneurs need to keep in mind.
You will learn how to work in creative teams. You also learn a lot about yourself and how to become a successful entrepreneur or entrepreneurial leader.
Semester II: Developing and Calibrating
Your entrepreneurial journey continues with validating a business idea. We dive into the world of business modelling and finding potential first customers. At the same time, you will form a stable team and start preparing your initial organisational structure that supports your business idea.
As a team, you will learn how to overcome failure by pivoting your business idea. On the personal level you continue to explore your entrepreneurial side and learn how to take your actions to the next level.
Academic year 2
Semester

III

: Expanding and Growing
The third semester of your entrepreneurial journey focuses on continuous and sustainable business model innovation. Also, we will explore the strengths and weaknesses of different strategies for growing, expanding and internationalisation of your business.
As a team, you will start to prepare your business for rapid scaling. As an individual, you will start recognising your different roles and responsibilities as a founder, leader and manager.
Semester IV: Maturing and Exiting
Your entrepreneurial journey reaches the phase where your business is mature and stable. You will explore different exciting strategies from bankruptcy to Initial Public Offering (IPO). Obviously, your exits need to be communicated internally and externally, so you will prepare for that by creating a PA and PR plan.
As a team, you will learn how to negotiate and deal with challenging situations. As an individual, you will learn how to let go of your "baby" and all the emotions that are related to these situations.
Academic year 3
Semester V: Focusing and Connecting
The fifth semester enables you to add value to your personal entrepreneurial journey by selecting those specialisation topics that interest you the most. You do this either by going abroad or taking elective courses at EBS. We focus on expanding your networks.
As a pair, you will start preparing for your final thesis. As an individual, you will connect all the learning from your personal entrepreneurial journey.
Semester VI: Launching and Graduating
The sixth semester starts with you creating the launching campaign for your business which you implement immediately after the graduation. We will wrap up your studies by building a leadership toolbox for entrepreneurs.
As a pair you will write your thesis while being supported by supervisors and seminars. As an individual, you will obtain mentoring and coaching skills that will help you in your future career.
Career opportunities
After graduation you can find a job as:
Once you graduate from this program, you are ready to be an entrepreneur. However, you will also be able to act as a leader of business projects or as a specialist in positions which require entrepreneurial skills. Most likely you will keep developing and managing the company which you started during your studies. You will have relevant knowledge and practical skills in all the areas needed for the successful running of a business – product development, marketing, management of people and processes, financing, and business law.
EBS cares a lot about the success of its students, alumni, and their employers. We strive to make sure that our graduates do well, and we are genuinely happy about their success.
According to research among EBS alumni:
15% create their own business;
44% work in international companies;
21% work in local companies;
20% work abroad.
Of EBS alumni:
11% are entrepreneurs;
35% are top- or middle managers;
45% are top- or mid-level specialists.
Salaries for EBS alumni in business and management are higher than those for other Estonian universities' graduates.
Compared to Estonian average salaries, gross salaries for EBS alumni are:

above Estonian average for 85% of

EBS

alumni;
more than twice the average salary for 43% of

EBS

alumni.


We sincerely hope that you, too, will soon be an EBS alumnus!